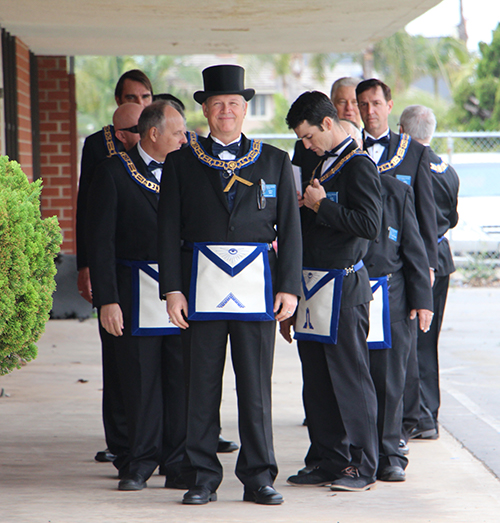 Welcome to the World's Largest and Oldest Fraternity
We have members from all walks of life. Inside our doors, worldly distinctions are disregarded, and all men are considered to be "on the level," and stand as equals, regardless of race, ethic background, or economic status.
It is an organization made up of like-minded individuals dedicated to "Brotherly Love, Relief, and Truth."
Brotherly love. We value respect, freedom, kindness, tolerance, and our differences – religious, ethnic, cultural, social, generational, and educational – and strive for harmony in our individual lives, in our lodges, and in the global community. We are also a fraternity, and our Lodge is a place where lasting friendships can form.
Relief. We take responsibility for the well-being of our brothers, our families, and the community as a whole. We provide relief through philanthropy, community involvement, and delivery of excellent care.
Truth. We stay true to our personal code of conduct and ethics – honor, integrity, personal responsibility, and the continuous pursuit of knowledge.
Freemasonry is not a religion, and it does not promote the values and ideals of one particular religion over another. A belief in a Supreme Being is a requirement to join our fraternity, but we believe the way you choose to worship is between you and your church. Our members are expected to live upright and moral lives, regardless of the doctrine they follow.
Our ceremonies are very old, and are used to impart certain lessons that every man can apply to his own life, in an effort to become a better man. It is said that one of the aims of Freemasonry is to make good men better. That is achieved both through a careful study of our ceremonies, and by being surrounded by like-minded individuals who share that lofty goal.
Much is made about Freemasonry and Secrecy. Despite what you may have heard, Freemasonry is not a secret society. All members are free to acknowledge their membership publicly. Our meeting places are well-marked, and easy to locate, and our constitutions and rules are available for anyone to see. We are open about our mission and goals, and we frequently work within the community and proudly display our affiliation with the fraternity. There are some secrets – namely the specifics of our ceremonies, and our modes of recognition, but this is no different than many other similar organizations who have similar private aspects that are only shared with their members.
Men are drawn to our fraternity for a variety of reasons. Some come for personal development – and others come because they want to share an experience with their father, grandfather, or some other man in their lives who was a mason. Still others come for the history, or are drawn to it because of something they saw in a movie or read in a book. Men who join us for these and many other reasons ultimately find something of value in the organization, and often more than they expected.
Volumes can (and have) been written about Freemasonry – its history and purpose – but the best way to learn about it is to become a part of it.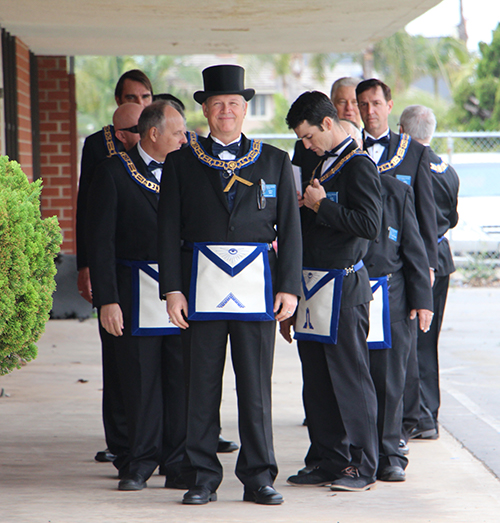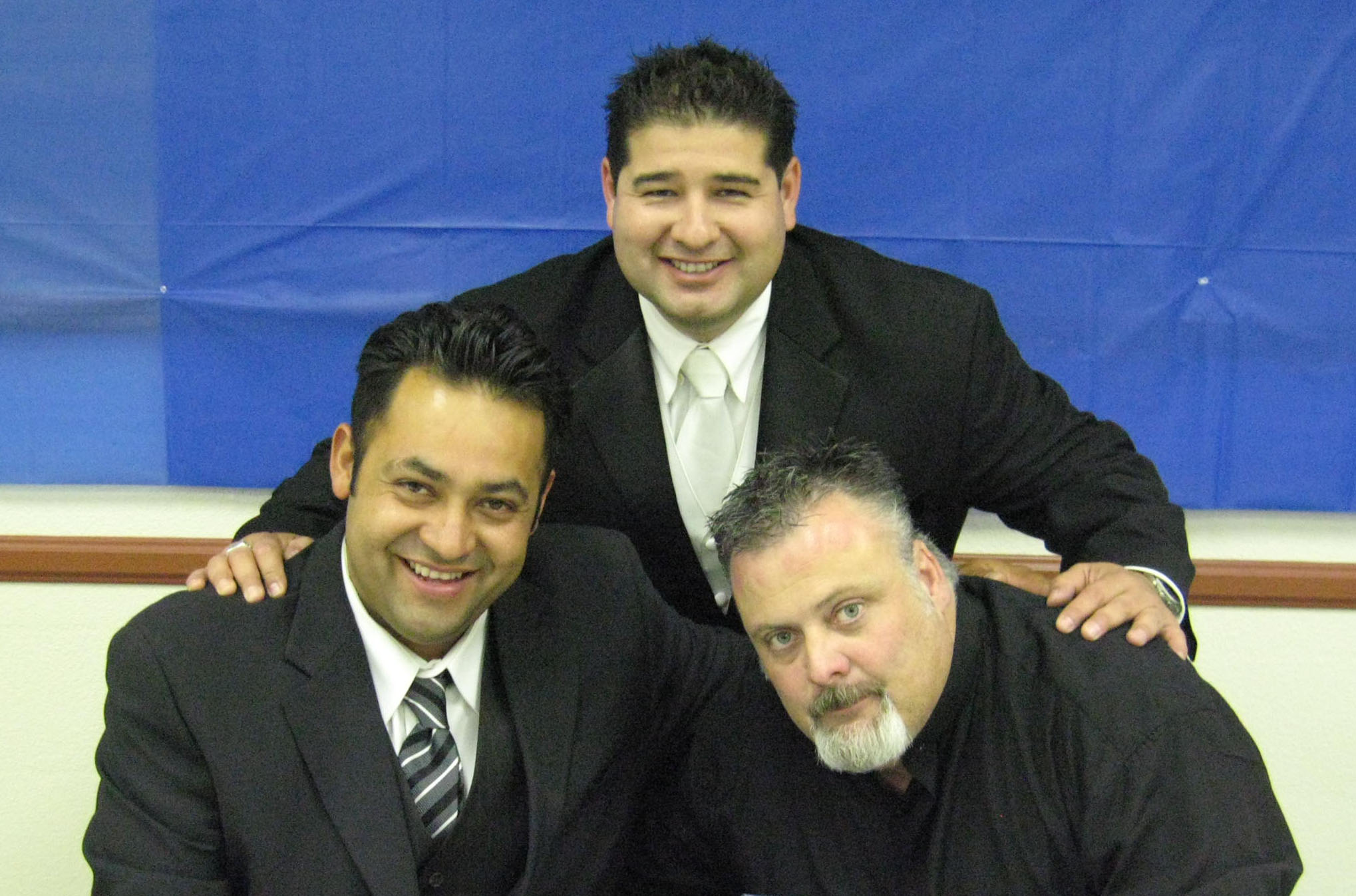 About Our Lodge
Huntington Beach Masonic Lodge #380, Free and Accepted Masons of California was formed in 1906 by a group of Masons who were members of the Santa Ana Lodge. As Southern California residents know, the winter months have a tendency to be cold and rainy, and these conditions made it difficult for residents of Huntington Beach to make the long trek on horseback or by carriage. The Lodge was first formed at a meeting on April 26th, 1906, where Andrew Wylie Griffith was elected the first Worshipful Master. Huntington Beach #380 formally received their dispensation from the Grand Lodge of California on June 25th, 1906, and were presented with the official charter at a meeting on October 31st, 1906.
Prior to the construction of the current Lodge building, Huntington Beach #380 met at the Odd Fellows Hall on the second story of a building on the corner of Ocean Avenue (Now Pacific Coast Highway) and Main Street in Downtown Huntington Beach. Erection of the current Huntington Beach Lodge was completed in 1954, and the building was constructed by members of the Lodge. The Lodge has met there ever since.
A fixture in the local community for over a hundred years, Huntington Beach #380 is a highly active lodge. In addition to bringing in new members, it hosts programs honoring first responders and promotes involvement with the local schools through its Public Schools Night program. Each August, the lodge hosts its annual deep-pit barbeque at Lake Park – a highlight of the year that has continued since 1936. This event attracts members from all over the community, and is attended by local civil dignitaries, and guests from the Masonic Homes and community members.
We welcome our traveling brethren as well as the curious. If you live or work in the Huntington Beach area and are interested in learning more about Freemasonry, call the Huntington Beach Lodge at (714)536-3119 or feel free to contact us!
How to Join

Membership is open to men age 18 and older who believe in a Supreme Being and meet the qualifications and standards. Men of all ethnic and religious backgrounds are welcome – Freemasonry does not discriminate based upon religious or political views.
Masons do not recruit and therefore will not ask you to join a lodge – you must ask to join. We will talk to you about the lodge, the history of Freemasonry, and what events we have planned at the Lodge, but you will never be asked to join. To become a member, one must ask – it is as simple as that!
If you are interested in joining our Lodge, or just getting more information about the Fraternity, please feel to come visit us. We meet every Wednesday at the Lodge at about 6pm. We also put on many special events which are open to the public. Come down and see us! We would be happy to talk to you and answer any questions you have about our Lodge and the fraternity itself.
In addition to coming down to the Lodge, you can also contact us online, and we will be happy to answer any questions you might have. The Grand Lodge of California website has many resources that may answer any questions you don't find answered here – as well as a Lodge Locator if you don't live in the Huntington Beach area and would like to find a Lodge closer to home.
Before submitting an application, we will want to get to know you. We are a society of friends and brothers, and as such, it is expected that you will get to know some of our members before you can be admitted. You will need to get two members to recommend you for membership, and for that, they need to get to know you! Don't be intimidated by this! We are very welcoming of new prospects, and you will have many opportunities to make new friends. Before you know it, you will have the signatures you need to apply for membership.
Once you have submitted your application, it will be read at our next monthly business meeting. After the application is accepted, a background check will be conducted, and you will be contacted by a few members of the lodge who will interview you, in an effort to get to know you better and answer any questions you and your family have about the fraternity. After those members have submitted their reports, your application will be voted upon at the next business meeting. You will then be notified of the result, and then told what happens next!
Interested in joining?
The best times to inquire about membership are Wednesday evenings at 6:00 pm, prior to the start of our meetings. Our regular meetings are closed to the public, and begin every week at 7:00 pm, except for the first Wednesday of every month when they begin at 7:45 pm.
Usual dress is a jacket and tie.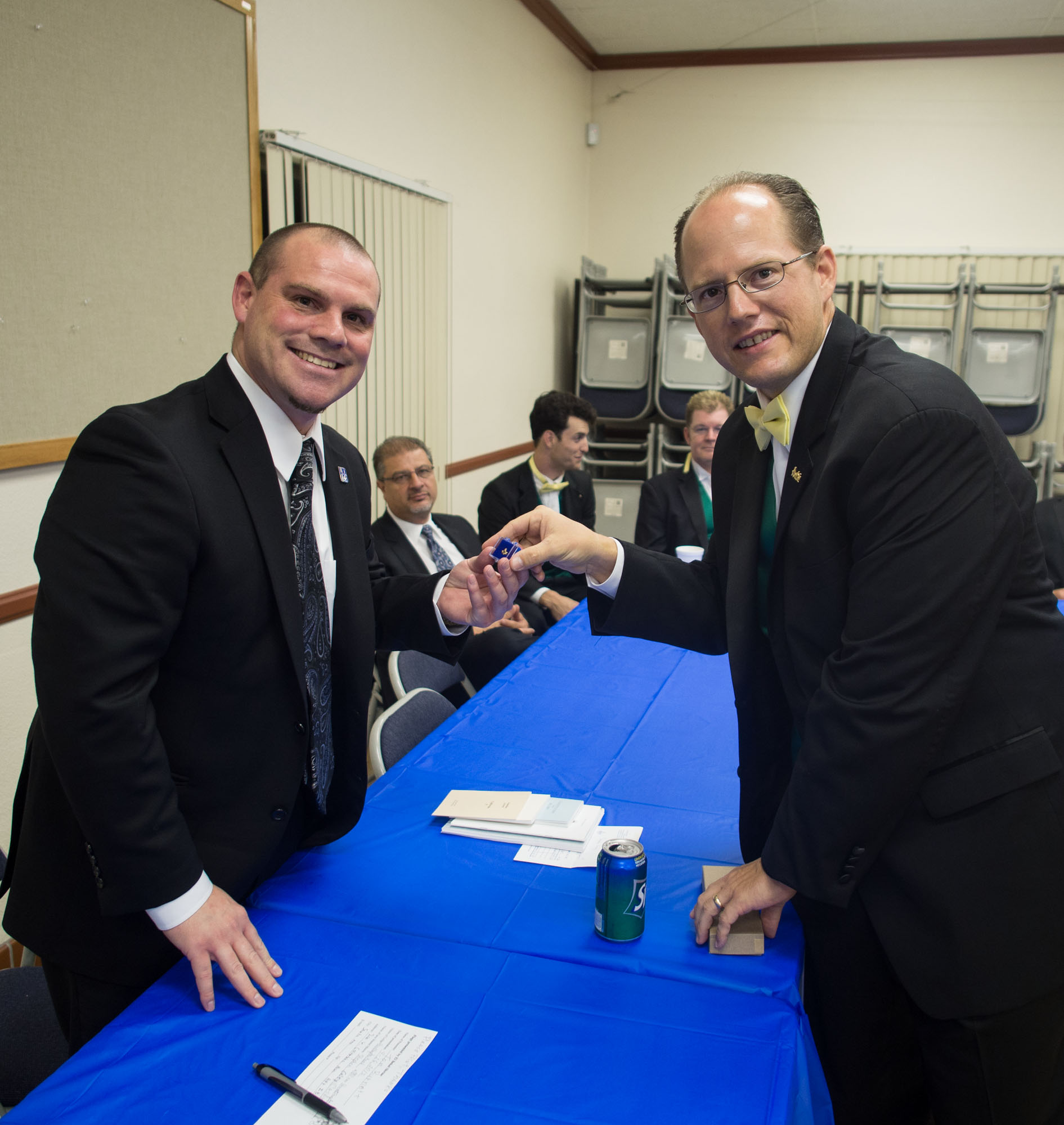 Huntington Beach Masonic Center
601 Palm Avenue
Huntington Beach, CA 92648
(714) 536-3119
We are located on the corner of Lake and Palm in Downtown Huntington Beach. The parking lot is accessible from Lake Street.
Huntington Beach Lodge #380
Huntington Beach Lodge #380
601 Palm Avenue
Huntington Beach, CA 92647